SAARTHI
COUNSELLING SERVICES BASED IN DELHI & NCR
SAARTHI is headed by Delhi 's most trusted and eminent Psychologist and Marriage Counsellor, Shivani Misri Sadhoo who has served over thousands plus happy & satisfied individuals and couples in India and abroad. She is India's best expert on Marriage and relationship issues and gets frequently been featured in leading newspapers, magazines and TV channels.
Counsellor Shivani is experienced and certified counselling psychologists with specialization in the area of Personal Crisis interventions like coping-up with Relationship Issues, Marriage Counselling, Separation & Divorce, Child and Adolescent issues, Depression, Stress, Domestic and Sexual Abuse, Loss & Grief, Suicidal feelings. Counsellor Shivani is currently working with India 's top hospital groups like Fortis Hospital, IBS (Indian Brain & Spine) Hospital and with Express Clinics. Counselor Shivani is also a Level 3 Trained Gottman Method Certified Couples Therapist.
Why Counselling With Counsellor Shivani Sadhoo?
1. She is the most trusted Relationship Counsellor in India: Shivani Misri Sadhoo today has more than 10,000 happy clients both in India and abroad. She works with the best health organizations and hospitals like – Fortis, IBS and Express Clinic.
2. International Counselling Standards: As Gottman Method Couples Therapist, Counsellor Shivani has helped couples to enhance their relationships by re-establishing trust, increasing friendship and intimacy, improving communication, calming conflict, and creating shared meaning. No matter how troubled a relationship seems - remember counselling standard at Saarthi are result oriented.
3. Certified Counsellor: Counsellor Shivani is a Certified Neuro Linguistic Practitioner with specialised training and experience in the fields of Relationship and Marital issues. She is Level 3 Trained Gottman Method Couples Therapist.
Why do couples therapy?
Because it works! It helps with increasing fondness & and admiration. It will also help you manage conflict. Fighting and withdrawing are inevitable in a couple's relationship. Master of relationships learn how to reduce their frequency, duration, and damage, and even turning them into opportunities. Counsellor Shivani can help you become a successful couple.
What Is Couples Therapy?
Couple Therapy or Marriage Counseling is a process to help YOU develop a shared picture of your relationship – how it is special as well as its trouble spots.
What are the benefits of good couples therapy?
Research on couples therapy shows that it helps partners with some of the following: (1) Increase respect, affection, and closeness.(2) Break through and resolve conflict when you feel stuck.(3)Generate greater understanding between partners.(4) Keep conflict discussions calm.
How does couples therapy work?
It's important to understand that neither you nor your partner is the patient;; it is your relationship that is the patient.We will work on the following together: Assess your relationship Collaborative treatment plan Practice how to have conversations that turn problems into occasions for intimacy Turn what is troubling the relationship into a way for deepening it. Don't wait too long!
Couple Therapy by Counselor Shivani Misri Sadhoo
Whether you call it couple therapy or marriage counseling or relationship counseling, what you're signing up for is inviting a trained & experienced relationship expert or couples therapist–into the life of your relationship or marriage to help you and your partner to grow, improve your communication with each other, reboots your romance, rejuvenate your marriage or simply to analyze and understand what could be right for your relationship.
Advantages of Couples Therapy or Marriage Counselling?
Our personal relationship is the most precious gift in our life. When our relationships (that matters) in life are healthy it adds to our good health and wellbeing whereas a struggling or failed personal relationship - silently kill us. We all try to save and protect our personal relationship - still lots of time love deteriorates & marriages fail. Curing relationship problems requires expert intervention. Just like a specialised surgery, only a qualified and experienced counsellor can save a relationship and rejuvenate a marriage. otherwise, the problem would just get worst if treated by inexperienced hands.
Hence when it's the matter of your marriage and relationship DON'T COMPROMISE in the name of convenience, cost and ease. Chances are high that situations may get worst if your relationship issues are treated by inexperienced hands and through ineefective means like - video calls. Remember people use 55% of body language, 38% of body tone and just 7% of words. Counsellors cannot hear compete for voice tones or can read body language on phone or laptop screens – that leads to WRONG DIAGNOSES.
Relationship and Marriage Counsellor Shivani Misri Sadhoo has completed Level 1, Level 2 and Level 3 (GRN) Clinical Training in
Gottman Method Couples Therapy
.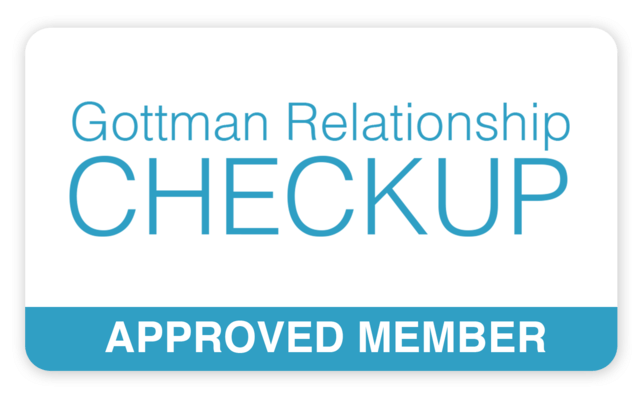 Counsellor Shivani Misri Sadhoois also a Certified Neuro Linguistic Practitioner with specialised training and experience in the fields of Relationship issues (communication, co-dependency, conflicts, couple counselling (affairs/betrayals, trust issues, difficulty communicating, conflicting values) Bereavement, grief and loss (affairs, separation, divorce, childhood) Mental health Issue (anxiety, social anxiety, fear, depression, low mood) Work issues (assertiveness, stress, feeling dissatisfied, anger, career change) Life events and transitions (leaving home, job change, retirement), Child and adolescent issues etc. Shivani has done her post-graduation in Counselling Psychology and she regularly attends training workshops on Relationship Counselling, Marital Counselling CBT and Counselling Skills from AIIMS, VIMHANS and various other reputed hospitals.
At SAARTHI, we also believe that every personal crisis results in leaving us emotionally vulnerable….making us feel LOW, EMPTY, UNIMPORTANT, LOST, LONELY, HELPLESS……THIS IS WHERE COUNSELLING SERVICES OF SAARTHI CAN HELP.

Frequently Asked Questions on Marriage Counselling
Do Relationship and Marriage Therapy works?
People who are sufffering with relationship & marital issues, often ask Counselor Shivani, "Can my marriage be saved?" or "Can you help us decide if we should stay together?" While these are complicated questions, Psychologist's answer is usually is, "Marriage counseling is hard work and if you are wise to invest the time to find out , your marriage can be improved."Yes marriage therapy perfectly works. The effectiveness of marriage counseling is directly related to the motivation level of both partners and timing. Further, it's important to choose a therapist who has experience working with couples and who is a good fit for both you and your partner. An expert and certified counsellor exactly know how to unlock the hidden corners of mind and soul of couples and rejuvenate their lost love and relationship.
How to contact Psychologist Shivani Misri Sadhoo?
The Counselling happens in a highly personalised and dedicated environment where the clients feel their priority and comfortable zone to express their inner self. Hence a dedicated chamber and time is involved for which the counsellor has to pre-book the chamber

Words from Psychologist & Marriage Counsellor Shivani Misri Sadhoo,"I also understand that choosing the right counsellor is an individual process that will have a huge impact on the efficacy of your therapy. As a marriage counsellor and a psychotherapist practising in IBS Hospital, Fortis Hospital and Express Clinics , I am aware that there are many other therapists nearby, practising in many different styles of therapy. I want you to be sure that you have found the correct one for you, without financial pressure or obligation, as approaches vary significantly."

Please get in touch with me for more information, or if you have any questions - no matter how trivial they may feel to you. I welcome all enquiries. I offer both daytime and evening appointments.
I consider our first counselling psychotherapy appointment to be an assessment of sorts - both for you and for me. It is during this initial session that we can both get a sense of what we are working towards, and whether we feel we 'click' enough to work well together. Not all counsellors are right for everyone - personality plays a huge factor in whether counselling psychotherapy is effective or not. Keeping this in mind, I would like to suggest you to try a first session with me, where you can find out if you would like to work with me, whether my counselling style feels right for you. **"